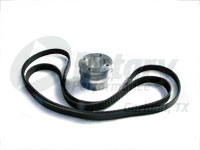 Underdriving the accessories is a safe, simple method of increasing their reliability and extracting more horsepower from your RX-7. Designed to underdrive all belt-driven accessories by a full 25%, this kit is offers maximum power gains! The pulley is made of high quality, CNC machined, anodized 6061-T6 billet aluminum. The kit includes new belts, grade 8 hex bolts with washers, and instructions for an easy upgrade. Installation is very easy as removal of the factory hub and eccentric shaft bolt is NOT required. Included hardware not shown.
RP Main Power Pulley
Price: $250.00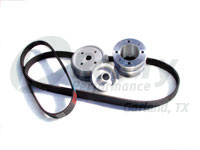 We've developed the RP Triple Race Pulley Kit for racing applications. The kit includes the RP Underdrive Power Pulley, described above, and two CNC machined, billet aluminum pulleys that eliminates the need to run a belt to the air pump. This allows for less parasitic drag which results in power gains up to 15HP. These lightweight components still provide enough drive to the alternator and water pump for use at low RPMs but slight dimming of the lights might occur at idle. Since you cannot use this kit on a car equipped with a catalytic converter, it's sold for racing applications only. The kit includes all 3 pulleys, the belts, high grade bolts, and instructions for an easy, quick install. Included hardware not shown.
RP Triple Race Pulley
Price: $350.00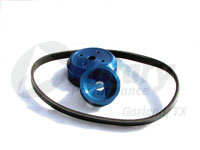 The GReddy Pulley Kit is designed to allow you to remove the air pump while retaining the factory main drive pulley. This works similar to our Triple Race Pulley Kit but does not included the main underdrive pulley. It is designed to work with the STOCK main pulley only. Two blue anodized pulleys replace the factory water pump and Alternator pulleys and a new belt is included. We do offer Greddy spare belts for those that might already have this system and are having trouble finding replacement belts. GReddy Pulley Kit with belt shown.
GReddy Pulley Kit
Price: $184.22




GReddy Pulley Belt
Price: $32.60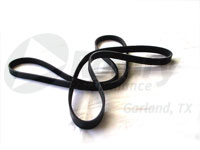 It seems that new factory sized accessory belts are either hard to find in the right size or are excessive priced. Now available are the OE sized belts packaged together at an incentive price. Pick a set up and keep your car in top notch condition.
RP Accessory Belts - Manual Transmission
Price: $40.00




RP Accessory Belts - Automatic Transmission
Price: $40.00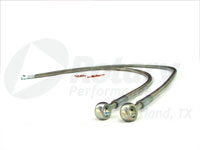 New for 2004, braided steel oil metering lines. These oil metering lines are the perfect replacement for your factory plastic units. The originals are notorious for yellowing, cracking and breaking at the worst time. Remember: All the oil that travels through these lines is meant to lubricate the apex seals. Anything leaked is cutting down on apex seal life. Like our DOT approved brake lines, each line is teflon inside with braided stainless steel on the outside. Unique to our lines, the outside is clear vinyl sleeved to avoid abrasion through hoses and wiring near the lines. With a burst strength of 10,000 psi, these will never fail. Pick up a set today.
RP Stainless Steel Oil Metering Lines
Price: $98.00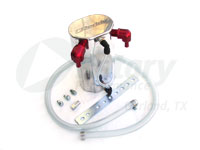 Do you have a single turbo? Is your street rod or race ride always leaking oil? One of the most common reasons is not having a catch can. The factory crankcase ventilation system has its limitations. It's definitely not able to keep up with the "blowby" of a real performance engine. This blowby pressurizes the oil pan and makes gaskets and seals more prone to leak. Also, turbo draining is negatively affected. The crankcase needs to be vented to the atmosphere. Designed with form and function in mind. The housing is extruded, smooth anodized aluminum with Greddy engravings. Can be mounted vertical or horizontal and comes in two different inlet fitting sizes. Comes with all necessary hardware.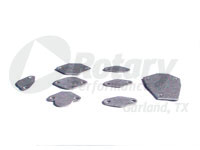 Simplifying your 1993-95 RX-7? This kit will make your life much easier. These are the same parts we use in our shop. Comes as a complete 8-piece kit to do anything you need. ACV, AWS, IAS, turbo drain, etc. they're all there. Also includes hardware and instructions.
RP 8-Piece Block Off Plate Kit
Price: $62.50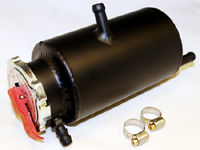 The Aluminum Air Separator should be the first upgrade to the cooling system. The plastic tank that the RX7 is originally equipped with has proven to be inadequate again and again. The extreme underhood temperatures combined with the pressures of the cooling system can cause the tank to fail without warning. The plastic tank has a tendency to split and drain the pressurized cooling system in virtually seconds. We all know that a HOT rotary engine is NOT a happy rotary engine. AST Air Separator Tank with Billet Neck shown.
AST Air Separator Tank
Price: $149.95





Prices subject to change without notice